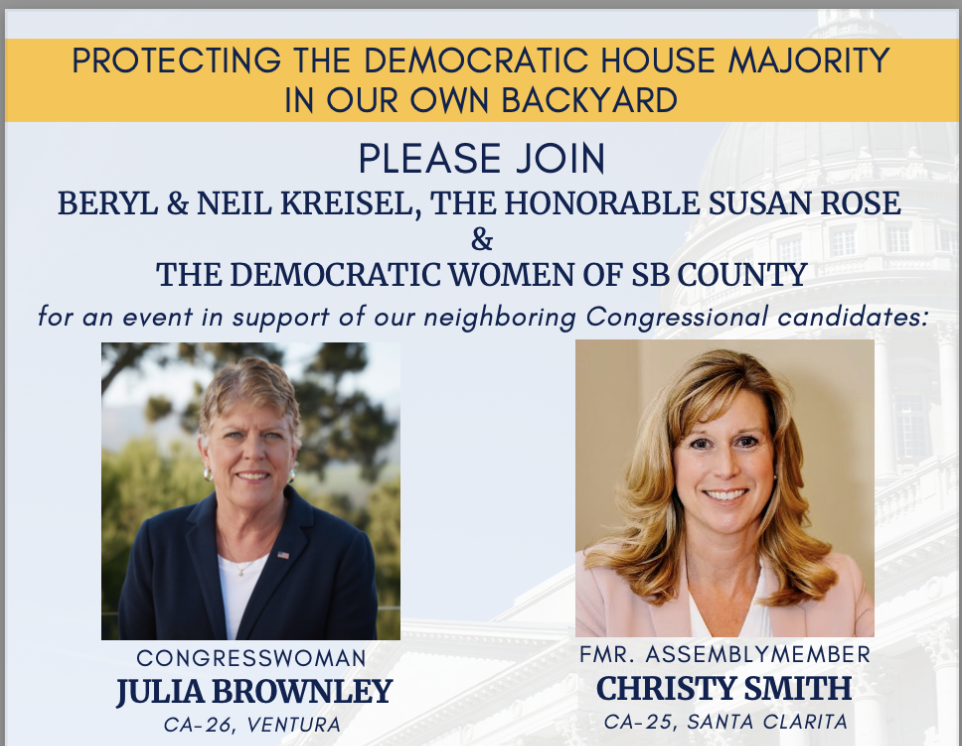 Protecting the Democratic House Majority in Our Own Backyard!
Please join Beryl and Neil Kreisel, The Honorable Susan Rose and The Democratic Women of Santa Barbara County for a fundraiser in support of our neighboring Congressional candidates Congressmember Julia Brownley and Fmr. Assemblymember Christy Smith.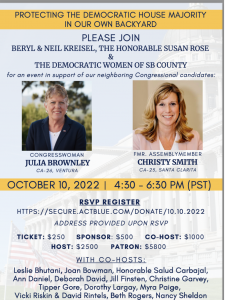 The path for Democrats to keep their majority in the House of Representatives runs right through California!  If every CA. Congressperson keeps his/her seat, and we flip a couple of toss-ups, California will help keep the House in the hands of Democrats.  In this midterm election, the Dobbs decision has made a woman's freedom to make decisions about her own body a potentially determinative issue, and women will play an outsize role in the outcome of the election.  We invite you to join us in support of two amazing women candidates from neighboring districts, one an incumbent, the other looking to flip a Republican-held seat.
JULIA BROWNLEY has represented Ventura County in Congress since 2012. She has a fabulous record on Women's Rights, health, climate change and gun safety.  But redistricting has made her re-election more difficult. She needs and deserves our support.
CHRISTY SMITH represented Santa Clarita (right next door) in the CA. State Assembly.  She ran for Congress in 2020 against Republican Mike Garcia, a full blown MAGA; she lost by the smallest margin imaginable.  This time favorable redistricting and help from her neighbors can get her across the finish line. Smith is a longtime advocate of abortion rights and Garcia is one of the "leaders of the nationwide effort to ban all abortion procedures".