AS BALLOTS DROP, COMMUNITY TO GALVANIZE GRASSROOTS SUPPORT FOR SCHOOL BOARD CANDIDATES WHO CHAMPION INCLUSIVE POLICIES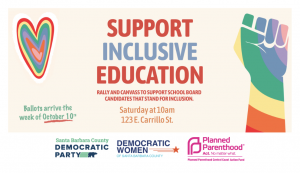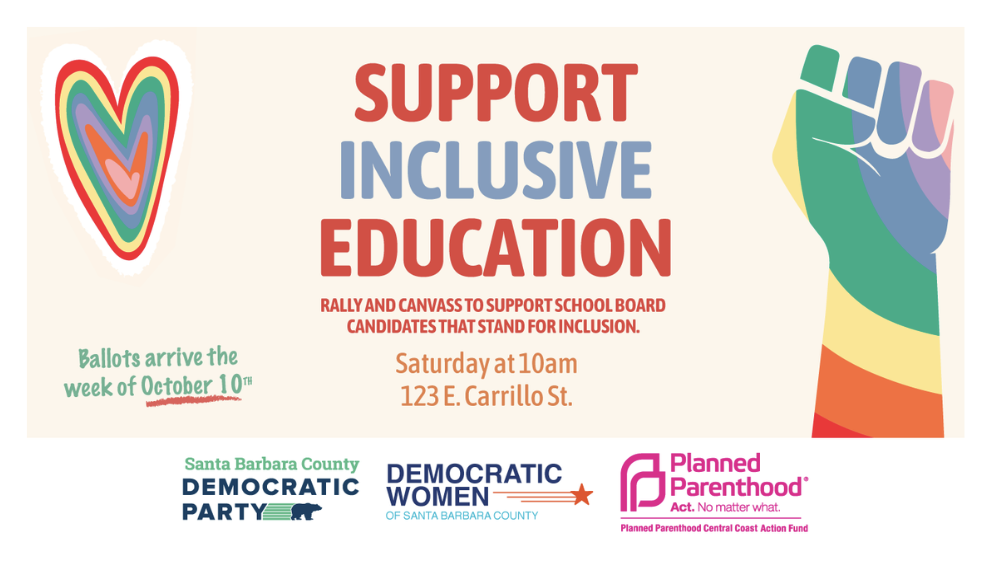 Santa Barbara, CA.  On Saturday, October 8, community groups are galvanizing support for school board candidates throughout South County who champion inclusive policies for our schools.  The event will feature remarks from several candidates and student leaders prior to kicking off a massive grassroots canvass effort to connect with voters in each district. 
"These inclusive education candidates know that by giving every student that enters our schools an accessible learning experience that respects them, includes them in the classroom, and addresses whatever unique challenges they may face, we ensure that all children have the best chance of entering further education and the world beyond at the fair, equal level they deserve," said Finnegan Wright, Dos Pueblos High School student. 
This election there are competitive races for nearly every school board seat – from elementary through SBCC – as opponents of comprehensive sex education, ethnic studies, and implicit bias training, etc. have organized a slate of candidates to run.  
What:  Rally for Inclusive Education 
When:  Saturday, October 8, 2022 at 10am
Where: 123 E. Carrillo St. 
Who:  All are welcome/Open to the public
The event is sponsored by the Santa Barbara County Democratic Party, Democratic Women of Santa Barbara County and Planned Parenthood Central Coast Action Fund.